Dream office on 16th Floor
Have you ever felt attached to a place where you've been staying the most of the time? After working for three years there, I would like to introduce you to one of the esteemed A-Class business centers of our city – Demirchi Tower (hereinafter "Demirchi"). I don't want to focus much on such obvious features of the plaza as top-notch infrastructure, fully furnished rooms, air conditioning and ventilation systems, interior and facilities, spotlessness at area, etc. Normally, stakeholders of A-Class premises would not scrimp on all these items that are highly prioritized by tenants.
In this post I will try to highlight intangible advantages and unseen sides of Demirchi Tower. This said, please bear in mind that this is not an opinion of a professional commercial estate agent, but a review of an ordinary employee of one of the companies that has been resident at Demirchi for several years. Typically, such reviews written in a simple wording, stand out thanks to a higher degree of honesty.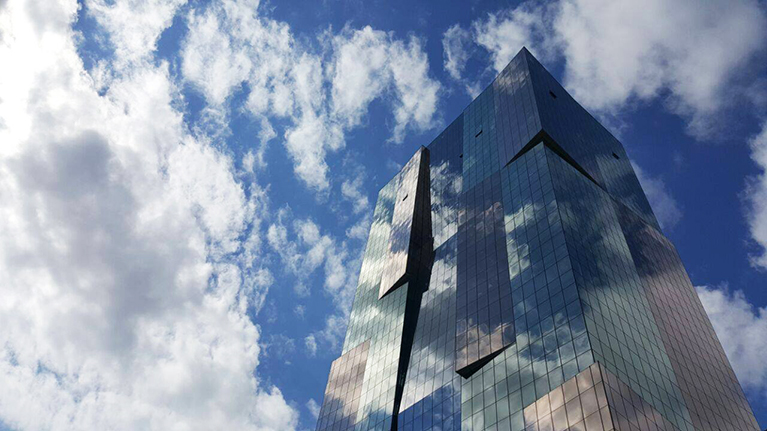 Lets start with a very convenient location. Demirchi is situated in the heart of Khatai district, one of the central and liveliest neighborhoods of Baku. An unbeatable advantage is the subway entry next to the Demirchi building. It's worth adding that despite its proximity to the underground, there is no noise inside the plaza, given a high-quality soundproofing solution. The metro station has been completely renovated recently. In 10 minutes you can get to the May 28th Street, from where you can already commute anywhere in the city. By the way, it is very convenient to locate the address when using taxi or Uber , especially for foreigners. They only need to say / type-in the keyword: "Demirchi Tower. Metro Khatai."
A few comments about attractiveness of the building's exterior. Demirchi is a stand-alone (i.e., not a multi-block facility) building with a total area of 18,800 sqm and 25 floors with panoramic windows. The mirroring of the windows during sunny weather creates an incredible sunlight show. And trust me, this view boosts the mood up once you arrive at work in the very morning. One day, exactly with a weather like that, I heard the following dialogue of two students passing by:
– How I wish I could work here … – a guy said dreamily, looking at Demirchi from the bottom to top floor.
– For which company? – asked his friend.
– Whatever. Just in this building.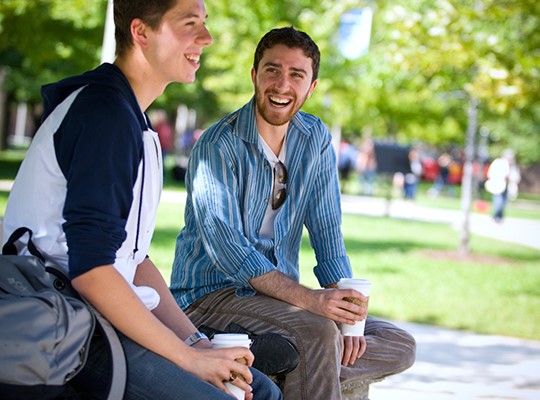 I think designers of the building have achieved their goal – the place attracts attention and shapes dreams..
Though office life consumes mostly intellectual energy, people working there are in instant need of replenishing calories burned out during working hours. Of course, a challenge of where to eat out within one-hour lunch slot and to which nearby restaurant to invite business partners is a very tough one. A plausible fact is that budget eateries and first-class restaurants with European, Azerbaijani and Asian cuisine are in abundance near Demirchi premises.
You should know that you can win the war against hunger without leaving the building. Here you have two choices. Either you can taste the most delicious sandwiches ever or have a light salad or pamper your inner sweet tooth with amazing desserts offered by a French cafe-bakery right on the ground floor or visit an authentic restaurant located on the 25th floor. A dedicated elevator exclusively allocated for this restaurant, will lift you from the 1st to the 25th floor in few seconds. A jaw-dropping view that exposes from the windows of this restaurant shall not leave you indifferent. Chief of the restaurant can fairly include an additional item into the menu – panoramic view of the city.
The next very sensitive point is availability of convenient parking, although at first glance it seems that it is troublesome to park because of the congestion of the roadway in front of the building (usually these are taxis or pick-up/drop-off cars or.. cool dudes who must feed own ego as much as possible). Demirchi has a parking lot of 30(!) floors for give or take 240 cars – yes, you heard it right – an elevator system moves automobiles up and down inside the building. Here at Demirchi you can chose from various options – either you use parking service of the building (plaza offers favorable parking terms for partner companies, assigning a fixed monthly fee) or you can park near the building (be prepared to bargain a daily or hourly fee with local uncles who will immediately pop up as you finish parking) or ultimately, if you study the area diligently enough, you can find a free parking spot.
Absolutely, the first option is the most convenient since you do not waste time searching for a spot and don't have to worry about your car's safety. In case you didn't know, Demirchi is one of the few business centers that offers Valet parking service for guests of the building.
Safety. This pillar definitely gets utmost attention by Demirchi management. Firstly, if you are not an employee of any tenant at the plaza, you will not be able to get to any office without proper authorization. Reception staff will contact the person / company you are visiting, and only after receiving approval from the other end of the wire, they will grant you permission (your name with your photo is saved in the Demirchi database) to enter the offices. Although this system seems bureaucratic to an outsider, subsequent visits take less time to register, plus host can inform reception beforehand so process is much smoother. Free access is enabled to facilities that are located on the ground floor and offer their services to public (embassies, banks, travel agencies).
In addition, periodically, Demirchi administration emails all companies notifying them about evacuation training to be held on a certain day in order to simulate emergency for plaza residents. This training applies absolutely for everyone. Staying inside the building is strictly prohibited.
A huge benefit of Demirchi business center is that it is home to multi-branch companies with the most diverse profiles meeting both business needs for daily operations and those of an ordinary person's routine. These are embassies, travel agencies, airlines, audit companies, all kinds of courses (foreign languages, finance, etc.), law firms, banks, international courier services, fitness centers.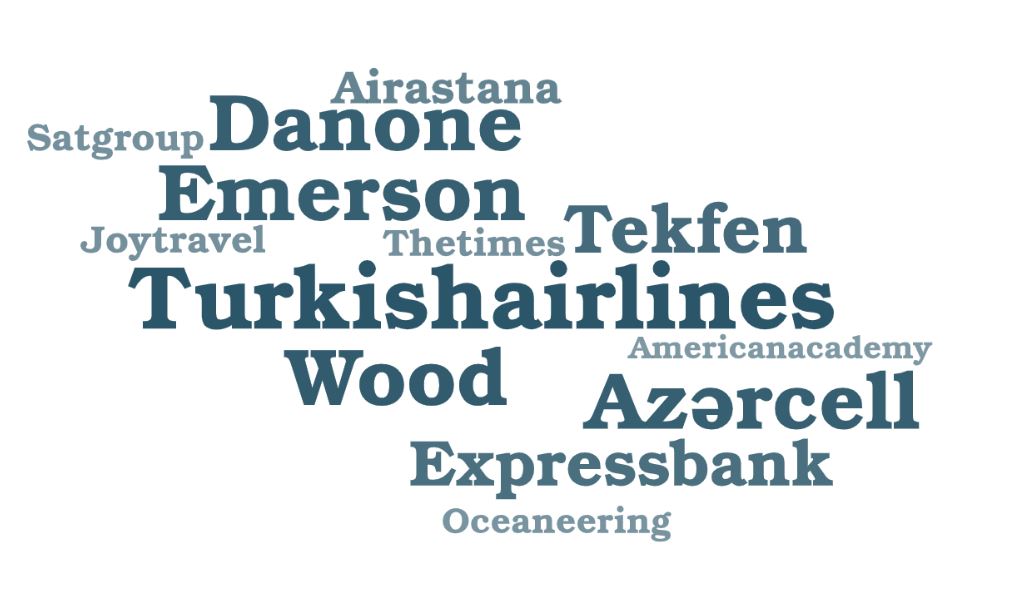 Demirchi renders every workable condition for a seamless plug-in into the office life. However, if a tenant also has extra budget for conducting own refurbishment and office design, then it would certainly impress your guests and be cheered by your employees. I can affirm this as a person who often meets with various clients and most frequent ice-breaker phrase from their side is "You have a very beautiful and a modern office!".
Needless to say, that this acknowledgement silently creates some kind of client's trust, since a company owning a well-designed office in one of the reputable business centers is hardly reluctant about its business. Don't quote me, but nobody, who is rational, would waste money just selling "eyeballs" instead of real business. On other hand a comfortable office creates a sense of responsibility and motivation for your company's employees. Both satisfied customers and loyal employees contribute to business growth and making a profit that will justify your rental costs.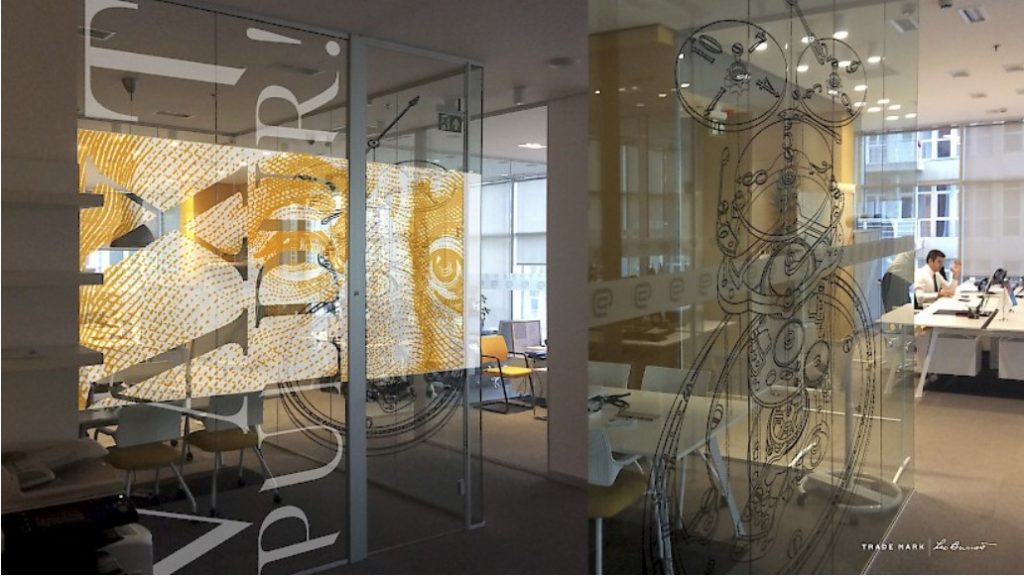 I just have to underpin another very handy feature of Demirchi, which is a hands-free access to offices. It's been already mentioned above that visitors entered the office premises after passing a certain registration. But what about folks who work at Demirchi? Usually, access to business centers is provided through special magnetic cards, which you should carry with you instantly. Given the fact that a wallet of any big-city resident is full of all kinds of bank, discount, travel and other cards, a work pass turns into additional burden. In case of Demirchi it is different. You need to approach a special device (there are four of them at lobby area) and just look through a special spot on it.
Actually, as soon as you become an employee of any Demirchi tenant, you go through a quick registration, where they simply scan the retina and add your identification information into the system. When a person quits employment at Demirchi, his company simply fills a request to the Demirchi administration to erase that person's data from the system and, accordingly, he or she will no longer be able to access offices.
Thanks to this technology, every day for a couple of seconds you can imagine yourself a hero of Hollywood sci-fi movie. What's more, is that leaving plaza is even more convenient, you just put your hand over a spot on a turnstile and – voila – glass frames open wide letting you out.
Demirchi staff. Usually, we come across reception employees or young gentlemen who perform not only the role of security, but also kindly help if you have any issues or questions. You may also run into, quite often, the co-owner of the plaza, a smiling person, Gafar Demirchi, whose ease of communication will destroy a stereotype that people who have authority are detached individuals who contact the outside world exclusively through subordinates.
If you have any complaint or suggestion regarding Demirchi, you can contact him directly. Be sure this person will listen to your feedback. Real businessmen know that customer satisfaction is a prerequisite for keeping the business in good shape. In addition, it is impossible to foresee everything to the smallest details, so a review by an external party can prompt the management of Demirchi to improve something.
Do you want to hear about a peculiarity that all business centers do possess including Demirchi? Probably everyone knows the motto of a once very famous Scandinavian mobile phone company. Similarly, Demirchi brings people together. I will explain in more detail.
Although a waiting time for an elevator and the time spent there is quite short, you still encounter people almost every day who also, like you work at Demirchi, and naturally starting to say hello, goodbye and even drop a quick joke. Believe me, one good-natured banter in isolated elevator space can make your whole day!
Given the presence of numerous foreign companies at Demirchi, you will come across people from all over the World, and you can find yourself making interesting discoveries related to various nations. For example, Koreans are extremely connected as a team, so you shall not be surprised if you see how almost the whole office of Koreans goes to and comes back from lunch together. Irish colleagues are very social and talkative and easily pass that fun mood to everyone. The British are quite restrained, but don't confuse it with coldness – they just prefer not to disturb someone's private space.
I promised at the beginning of the post that I would depict individual features of the business center. A distinctive fact about Demirchi is that it was built with investment of one of the authoritative international financial institutions – the Black Sea Bank for Reconstruction and Development.
If you've never heard of it, be aware that attracting financing from such an institution is a fairly complicated procedure. Institutions like BSTDB approve investments of any kind only after they are fully convinced that this project will be very successful and will generate expected earnings. If even financial gurus have relied on Demirchi, then this place can benefit your business as well!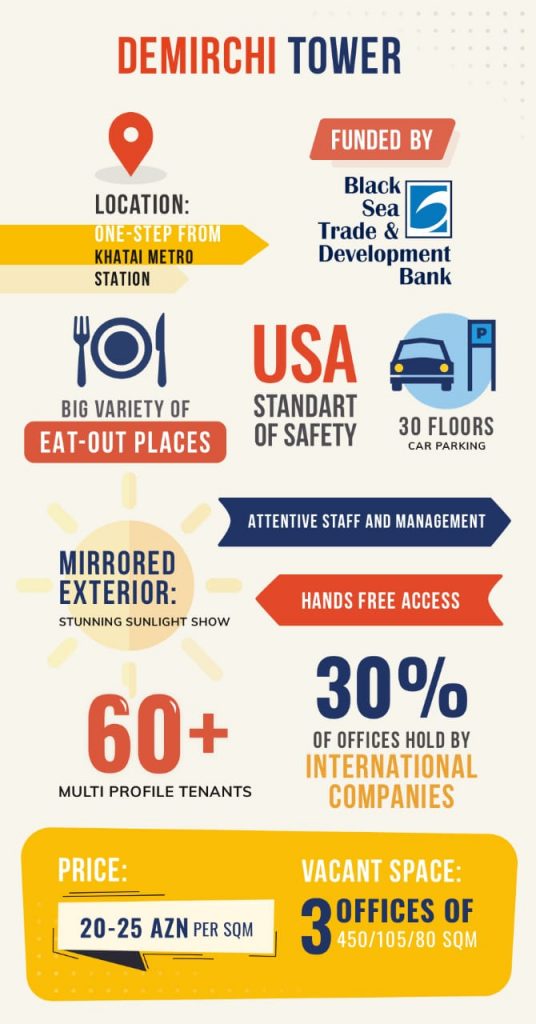 One of thesaurus of the word "tower" is – a castle. Indeed, Demirchi Tower creates the feeling of a modern, reliable castle-town where local business flourishes and office life is in full swing!