Neil Patel is one of the most successful, ubiquitous digital marketers.
To say he keeps busy is an understatement.
Not only does he run his Neil Patel Digital, he is also the cofounder of Crazy Egg and the brain behind the free keyword tool Ubersuggest.
Chances are you've read one of his many articles or books, or heard him speak, or watched one of his videos.
He's everywhere, educating marketers and growing businesses.
Here, discover 9 interesting facts about Neil Patel you might not know!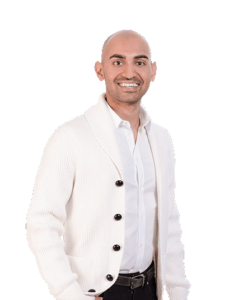 Neil Started Learning Digital Marketing at 16
Neil Patel's marketing journey started way back in 2001.
He created his first website at 16 and paid a few marketing firms to assist with growing it, but he only ended up getting ripped off.
As he would put it, he had to learn marketing because he had no choice.
He got good at it as time went on, but it would take one more step before he would pursue digital marketing as a career.
He's a Fan of Facebook Messenger Chatbots
Neil is a growth marketer and a huge fan of Facebook Messenger chatbots.
"The click-through rates on Facebook Messenger are insane: 80% open rates and at least 20% click-through rates — that's huge," he said, adding that any marketer would be ecstatic to get stats like that with an email marketing campaign.
Neil's advice?
Head to MobileMonkey and create a free Facebook Messenger marketing chatbot to add to your marketing mix.
He is a Prolific Blogger
Many people are astounded by how much content is published on Neil's blog on a regular basis.
His blog earns 2.3 million visitors each month.
Neil has an editorial team to assist him, as well a streamlined content creation process.
He starts by finding topics in his space and content by competitors that have done well.
He then finds other angles he can use to tackle those topics, whether it's a different spin, a different format, or bringing a different medium to it.
He keeps his posts simple and straightforward, and the goal is always to drive traffic and spark conversation.
He also religiously uses a content calendar.
His Client Roster is Incredibly Impressive
Neil can count brands like Amazon, eBay, Google, Salesforce, NBC, General Motors, Hewlett Packard, and Viacom among his clients.
He's also led presentations for staff at major companies including Facebook and Thomson Reuters.
Neil Was Born in London and Raised in California
Neil was born on April 24, 1985 in London, England.
His parents moved to Orange County, California when he was two years old.
As with most first-generation immigrants in America, his family struggled at first.
His father worked for one of Neil's uncles.
Meanwhile, his mother's first job was a non-paying teaching gig that took her miles to walk to.
His mother eventually left the teaching job to start a home daycare business.
His parents and uncles served as role models, displaying tenacity and an entrepreneurial spirit throughout his entire childhood.
He Took Courses in Community College While in High School
With the help of his sister, Neil was able to get a head start in college while still in high school by taking general education courses at Cypress Community College.
His goal was to finish college in just two and a half years.
While in college, he got his first gig as an SEO consultant.
He gave a speech on how search engines work in his Speech 101 class, after which one of the people in attendance asked him about consulting for Elpac Electronics on their Internet marketing strategy.
He used the sales skills he had picked up from selling vacuum cleaners door to door to land a $3,500 a month consulting gig!
Neil Patel Was Recognized by President Obama and the United Nations
As he grew more and more successful as a digital marketer and entrepreneur, he started getting recognition for his achievements in helping other companies grow.
Neil was named as one of the top 100 entrepreneurs under the age of 30 by then-President Barack Obama.
He was also named one of the top 100 entrepreneurs under the age of 35 by the United Nations, and was awarded a Congressional Recognition by the U.S. House of Representatives.
Neil Hosts a Daily Podcast called Marketing School
Neil hosts a daily podcast with Eric Siu.
The two cover a variety of digital marketing topics in bite-sized chunks.
Marketing School earns one million listens per month.
Neil is a New York Times Bestselling Author
In 2016, Neil co-authored Hustle: The Power to Charge Your Life with Money, Meaning, and Momentum.
The inspirational career guide is a New York Times, Los Angeles Times, USA Today, and IndieBound bestseller.
The book teaches you how to redefine hustle and find your optimal path to success and happiness.
Fortune called it a "must-read for any entrepreneur."
The day in the life of Neil Patel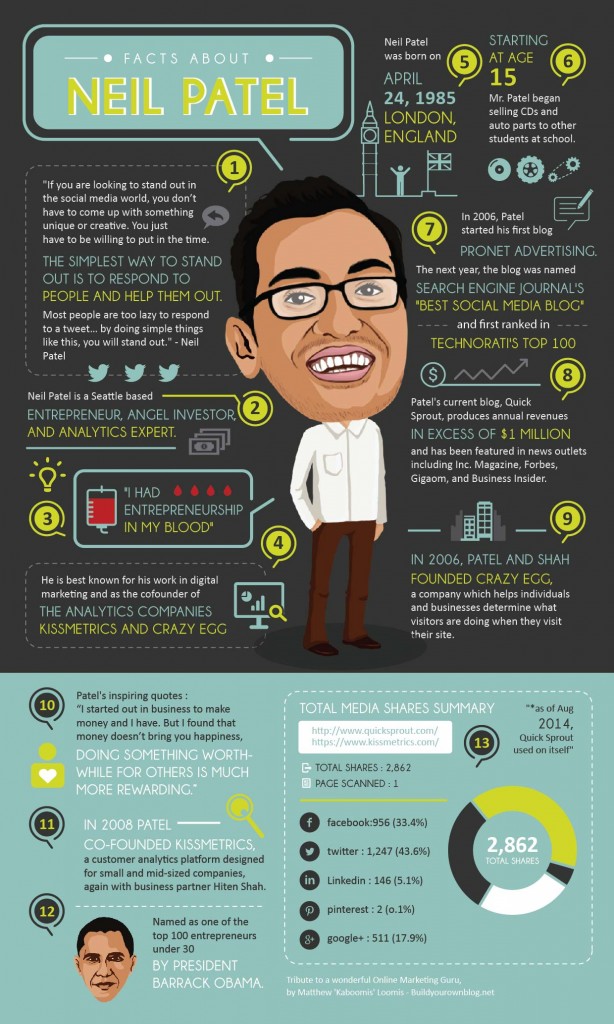 What's a day in the life of Neil Patel look like?
That is what shared with mAIndspace:
6:45 am– the start of the day – before I even get out of bed in the morning, the first thing I do is grab my phone to see all my missed calls, text messages, and emails that I need to respond to. I usually respond to everything while lying in bed.
7:00 am– the Neil Patel workout – every morning I try to hit the gym. My workout isn't that rigorous. I usually lift some light weights, run on the treadmill while watching TV, and then head into the steam room to relax.
8:00 am– getting dolled up – although I am a guy, it takes me a while to get ready in the morning. From showering to styling my hair, I spend around 30 minutes every morning getting dolled up while watching CNN.
8:30 am– the most important meal – by the time I get out of the shower, my assistant usually has breakfast ready for me. She goes over what I have to get accomplished for the day, and I tell her what errands she needs to take care of.
9:00 am– communicating with the world – I get bombarded with so many emails every day, that I spend hours in my inbox, reading and responding to emails. Most of my emails are from people asking for help, people asking for money, or people who are looking to meet up or schedule a call with me.
10:00 am– talking people's ears off – if I don't talk on the phone, I don't end up closing deals. So, for two hours in the morning, I try to talk with potential clients and other entrepreneurs to figure out how I can grow my company's revenue or bring more cash into the business through other means.
12:00 pm– enjoying a free lunch – I typically have lunch meetings with perspective clients on a regular basis. Many of these meetings don't result in new revenue for my startup, but the few that close have a big impact on the business. And if for some reason I don't have a lunch meeting, my assistant has lunch ready for me. She also has me respond to emails for an hour or so.
1:00 pm– communicating with the world – whether I have a lunch meeting or not, I am always backlogged with emails. So, for another hour, I respond to emails and work on setting up meetings and calls for upcoming days.
2:00 pm– random crap – I always have random stuff that comes up within the day that I need to complete. I usually do it during this time to give myself a little break so that I don't get burned out.
3:00 pm– talking people's ears off – a few hours of phone calls during the morning isn't enough. I usually spend the next 2 hours on phone calls or in-person meetings.
5:00 pm– happy hour – happy hour is truly the highlight of my day. I love drinking alcohol while shooting the shit with potential clients. I try to do this on a daily basis. If I am unable to do a happy hour meeting, I am typically checking emails.
6:00 pm– communicating with the world – as usual, I am back to emails. I really enjoy helping other people as people helped me when I was a new entrepreneur with no money. So, for me, emails aren't a chore, they are a blessing.
7:00 pm– my last meal – I usually don't have too many dinner meetings. I typically eat out with friends, or my assistant cooks me a meal before she leaves.
8:00 pm– communicating with the world – responding to emails again…
9:00 pm– living a peaceful life – from writing blog posts to hanging with friends to just relaxing and watching TV or even finding out ways to help local non-profits, for the rest of the night, I just chill. All of the things I mentioned help me relax and feel happy, which relieves most of my stress.
11:00 pm– communicating with the world – if I am still awake, which I usually am, I end my night writing more emails and falling asleep in front of my computer screen.
As you can tell from my schedule, I am a workaholic. I work seven days a week, and I haven't taken a holiday in over ten years. But I have to say, although my life seems hard from an outsider's perspective, it actually isn't too bad. I don't really have to worry about making mortgage payments or putting food on the table. All I have to deal with is job related stress, which you get used to over time.