Originally built in 1903 during the Baku Oil Boom, the historical part of the Landmark began its life as a flour mill. In 1997, it was renovated to serve the purpose of an office building and designated The Landmark I. In 2002 a new 9 story adjacent building was added as Landmark II and in 2010 the third building, a massive 22 story building housing the five star Landmark Hotel was completed and christened The Landmark III. The three buildings create in tandem a stunning complex which combines in itself world class office spaces, a hotel, dining facilities, a fitness center, and a collection of conference halls and event venues.
Over the past two decades of its existence, The Landmark has become the go-to spot for world class entertainment, dining, conference, fitness and spa facilities and cultural events. Located across the road from the British embassy right at the heart of the city of Baku and in close proximity to the 28 May and Sahil subway stations, the Landmark is a favorite among both locals, foreign expats as well as tourists and visitors.

The Landmark is home to not only many important Azerbaijani companies, but also serves as the local headquarters for many international corporate giants and even a few Azerbaijani and foreign government agencies and organizations. The building also houses part of the personnel and operations of many foreign embassies: American, British, Irish, Spanish, Austrian, Croatian, Costa Rican, Venezuelan and Slovakian.
Some notable companies and organizations located at The Landmark include The American Chamber of Commerce, The World Bank, European Bank for Reconstruction and Development, Asian Development Bank, The Delegation of European Union to Azerbaijan, British Council, The Italian Trade Commission, Pricewaterhouse Cooper, Procter and Gamble, General Electric, Chevron, IBM, Microsoft, MasterCard, the BBC, Total Oil and Pasha Bank.
Each of the three constituent buildings of The Landmark complex is blessed with around the clock security personnel and a 24/7 reception desk with the friendliest, most helpful receptionists. The friendly receptionists will happily help you out with any questions or concerns you may have. They will help you get to the office you are looking for, and if you have come to the wrong address, you will be kindly redirected to the relevant place. Even if you happen to be passing by and need directions, the receptionists and security guards are always ready to help. Trust me, I am speaking from experience.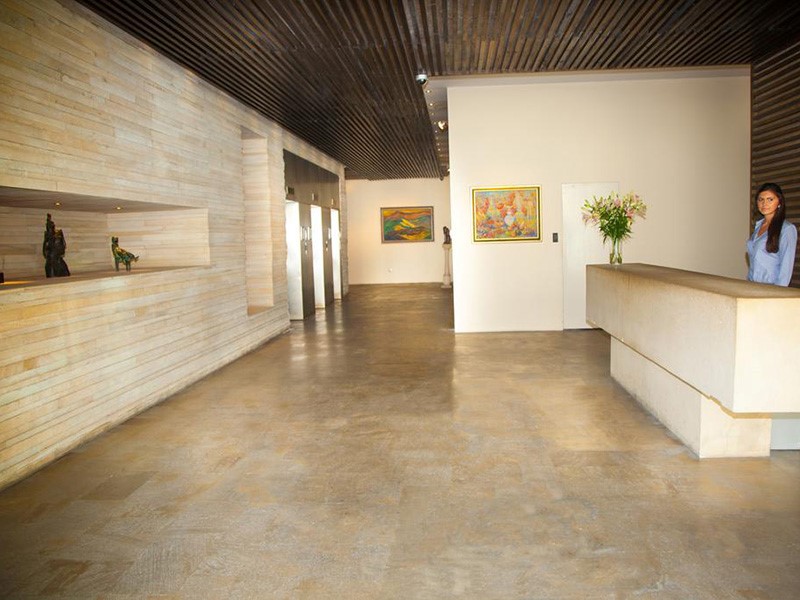 The Landmark complex includes eight conference halls with varying capacities of up to 100 people. Different seating and desk configurations are available and the specific needs of particular customers can be accommodated upon request. All conference rooms come complete with a WiFi connection and a projector screen with HDMI, VGA and AV connections to accommodate all of your presentation needs. Whiteboards, markers, paper, notepads, writing utencils as well additional audio and video equipment is available. The conference rooms can be rented by the hour, for half a day or by the day.
Given that Landmark's residents are comprised of multinational companies there is a large community of expats and international colleagues who travel to the country frequently. If someone is willing to pay to stay in the Landmark Hotel, he or she wouldn't even have to leave this wonderful space. Which brings me to another point: The Landmark is perfect for international business guests. By staying and attending conferences and events in one location, the guests will have more free time to explore the culture and historical sights and locations of Baku, and will thank you for the convenience and a wonderful trip.
Dining
Once the first half of your work day at the Landmark has been successfully completed and its time to refuel at lunch break, you and your colleagues will be greeted by a fine selection of world class restaurants and coffee shops located at the Landmark to choose from. As we know, dining together is one of the most ancient, primal and strongest ways people bond.
How could it be otherwise? It speaks to our animal roots. In fact, a quick google search will show that the expression "to break bread" exists in many different languages across the globe. This tells you all you need to know about the importance of the ancient practice of sharing and enjoying food with your kin. So take your coworkers with you on an exciting roller coaster of daily culinary bliss. At Landmark, you can go on an international culinary journey every day of the week.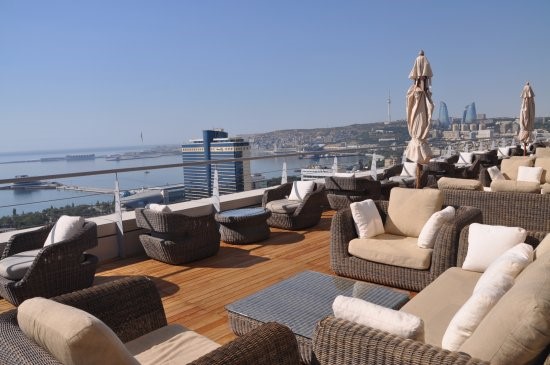 Longing for some warm Mediterranean sun during a gloomy winter day? Go to the Italian restaurant Salo and enjoy some seafood pasta while your eyes feast on beautiful contemporary art pieces gracing the walls, and let the red and white color scheme bring some summer warmth to your winter day. If you'd rather prefer to eat French, the doors of Le Vieux Moulin are open every day during lunch time. Japanese restaurant Seto and Chinese restaurant Shin Shin are there to satisfy the soy soaked, rice fried desires of Asian food connoisseurs. The aforementioned restaurants work every day during lunchtime except Sunday.
If you would prefer a more flexible option, check out Caspian Grill and Terrace, open every day from 6AM to 11PM. Missed breakfast at home? No problem! Grab a delicious breakfast right before work while enjoying the beautiful city view from the terrace on the 20th floor. If you are single, you can enjoy three meals a day with your colleagues if you so please.
Need a pause? Enter Dolce Pausa, an Italian coffee and pastry shop. Enjoy a delicious freshly brewed espresso made with the finest Italian coffee while you bite into a crunchy buttery croissant. Fancy a salad or a sandwich? Head to the Snack & Salad Bar for a quick snack and enjoy a great view from the 20th floor of the Landmark III.
Looking to unwind after a long day at work? Go to the Sky bar and Lounge and sink into the soft embrace of the comfortable couches while you enjoy a drink and the sea view from the top floor of the Landmark. Like Caspian Grill and Terrace, it works outside of the lunch hours too. The Sky Bar and Lounge is open from 8AM to 11PM.
Fitness and Spa
Office workers live a primarily sedentary lifestyle. Gone are the caveman days when men had to chase off predators and hunt buffalo and wild hogs with spears. Instead we now have packaged steaks and smoked bacon. The convenience is fantastic, however a steady diet of processed foods is taking a toll on the health of many office dwellers.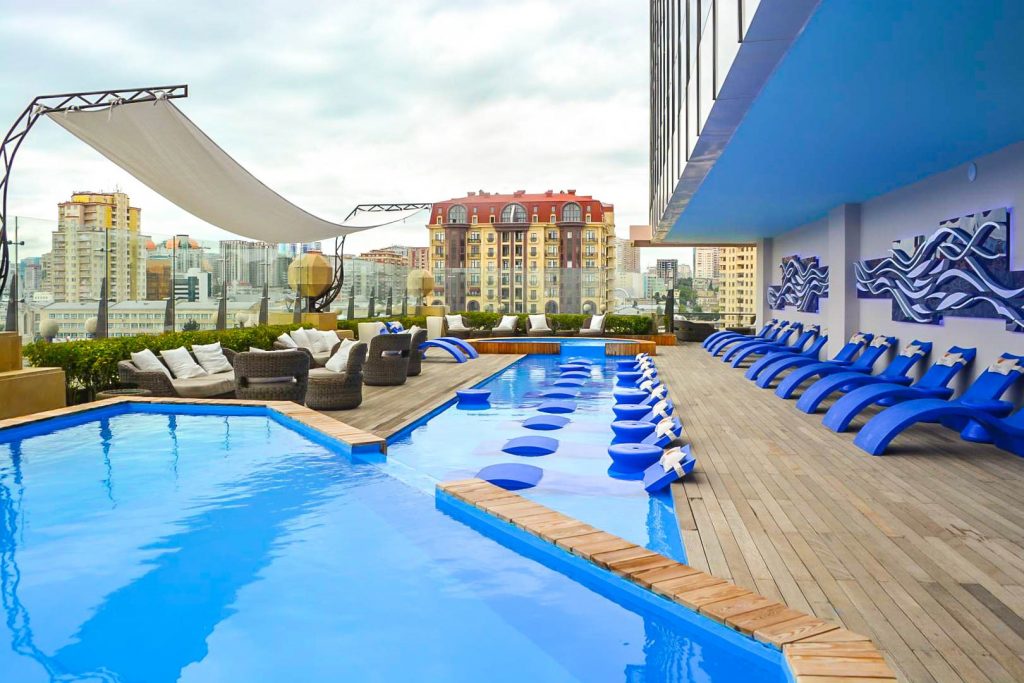 Fortunately, the Landmark has you covered in the health and fitness department by providing world class fitness and spa facilities at the Wellness Center. The Landmark Wellness Center is located on the 9th and 10th floors of the Landmark III building and is open from 6:30AM to 10:30PM. The facilities include an indoor swimming pool, a full gym complete with over a hundred of the latest and greatest in cardio and weight equipment as well as some good old free weights. There is even a boxing gym complete with sandbags. Personal and group training sessions are available along with dietary plans and other health and lifestyle advice. Aqua aerobics, yoga, spinning and other group activities are hosted at the Wellness Center. So get on that treadmill and get those rusty joints working. Chase off cholesterol on the elliptical machine and take your frustrations out on that sandbag. Fancy a schvitz after a long day of work and a grueling workout? Check out the sauna and the steam room. In case you need an extra set of hands to aid with your relaxation, massage and spa therapy are available. Additionally there is an outdoor pool and hot tub on the terrace complete with sunbeds and outdoor seating.
Banquet halls, Clubs and Cultural Events.
Now that you have taken care of your professional and physical needs, it's time to ascend the Maslow pyramid and take care of your finer needs. What would life be without art, music and social gatherings? Would it be worth living? I don't think so.
To my excitement, I found that the Landmark includes two banquet halls, called the Rotunda and the Rotunda-1. The Rotunda can be used for banquets, art and photography exhibitions, concerts, parties and is able to accommodate up to 500 guests.
The Rotunda-1, also known as the Rotunda Jazz Club, is a concert venue able to accommodate 250 seated spectators, complete with a large stage and a beautiful grand piano. The Rotunda Jazz Club has hosted the Baku Jazz Festival, a highly important cultural event in Azerbaijan, every year starting 2016. World famous jazz virtuosi like Jean Christophe Cholet, Leonid Ptashka, and our very own piano prodigy, the successor of Azeri ethno Jazz creator Vagif Mustafazade Isfar Sarabski have played on the stage of the Rotunda jazz Club.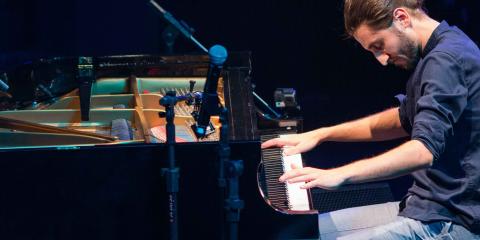 The terrace on the 22nd floor of the Landmark III can be used for all sorts of social gatherings, private parties, exhibitions, presentations, concerts and banquets. It opens a breathtaking view of the city and the Caspian Sea. The Executive Lounge located on the 21st floor is a spacious contemporary lounge space complete with beautiful contemporary art pieces and a fireplace. It's open from 8AM to 11 PM and offers hot beverages, alcoholic refreshments and desserts. There even is a beautiful cinema called the Cine Club with plush seats and throw pillows. Tickets are available for reservation. Cine Club screens not only popular blockbusters, but also more niche movies from South America, France, Asia and other regions of the world unavailable in most theaters. The screenings take place in English as well as in the movies' original languages.
The Landmark consistently hosts dance events. For the past several years, the Landmark has been inviting local and foreign tango instructors to hold tango classes. If there is a member of the opposite sex in your office who has caught your attention, a tango lesson or a movie screening at the Cine Club is just the right thing to grease the wheels of romance.
Conclusion
If you have read the article carefully, by now you have probably realized that the Landmark has nearly everything to take care of most of your needs. It creates an all inclusive work environment which allows its office tenants to work, eat, exercise, relax, enjoy art, music and cinema, bond with their colleagues and employees, hold events and social gatherings and even advance their love lives all in one convenient location.
The Landmark is ideal for foreign companies that are operating in Azerbaijan or planning to run their international business here.