One of my favorite quotes is "Focus on being productive instead of busy." Being productive can only be achieved by creating effective working place with comfortable and suitable circumstances. One of the Centers that is offering this kind of places is BEGOC Business Center.
Building was initiated with a purpose of being headquarters for the Baku European Games Organizing Committee in 2015 and thus, the name in short form is illustrating its first mission. This was very important event for the whole country, as it would mean many advantages for the country, such as tourism development, increasing profile of a city, long and short-term investments and infrastructure developments. The Games are held under the auspices of International Olympic Committee (IOC) and firstly were held in Baku. So, very important event that is remaining at the heart of world sport was provided in Baku! After, the building was retrained as business center with supply of new, renovated, highly-equipped offices.
The location is very suitable and easy-reaching- situated in the center of the city, with Government House next to it, Mari Vanna restaurant on the left-side of it and firstly Hilton Hotel and then Baku Boulevard with its shopping center- Park Boulevard located in front of it. After hard working day employees and employers can easily reach restaurants and entertainment zones. From transportation point, the location is also appropriate, as metro-stations are located at a distance of 10-15 meters – 28 May and Sahil stations.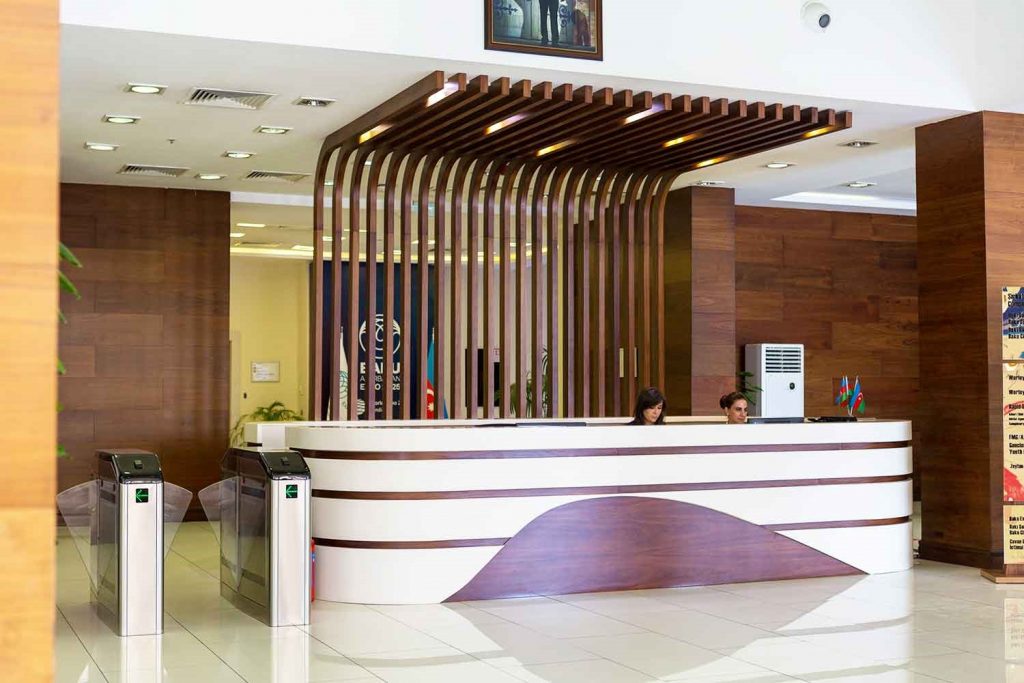 The architecture of the center was constructed in accordance with architectural style of Baku. Thus, it is more official and antique and is different by its construction from other business centers. Inside it is modern, with receptionist and Card entry system, as only offices are located inside and not entertainment places only workers and guests with official invitations can enter the center. There is also comfortable lobby bar for visitors. Inside there are 6 floors consisted of various company's workplaces such as Formula 1, Azerbaijan Youth Foundation and Youth organization Cavan.
Regarding the atmosphere that influence effective quality for working places is following- high-speed internet, 24-hour surveillance, 24-hour security, 1 cargo lift, 3 kitchens on each floor, 1 conference room and open-air and underground parking spaces. The general atmosphere and location was chosen for offering its workplaces to new renters of different businesses and organizations. BEGOC Business Center is offering bright open-spaces offices with separate spaces and meeting rooms. The center is offering fully equipped modern furniture and kitchen area attached to offices.

One of the floors of BEGOC Center accommodates Cavan Youth Movement Public Association Office Center. Cavan was established in 2017 with the purpose of finding problems of Azerbaijani youth and with direction of solving them with the support of government's decisions. The focus on young generation is coming from one of the main directions of government nowadays, as the youth is the future of the country. Cavan is organizing different events, conferences and projects for youth to develop their communicative skills, conduct entertainment activities and also to create future career by gaining new skills from participating in the events.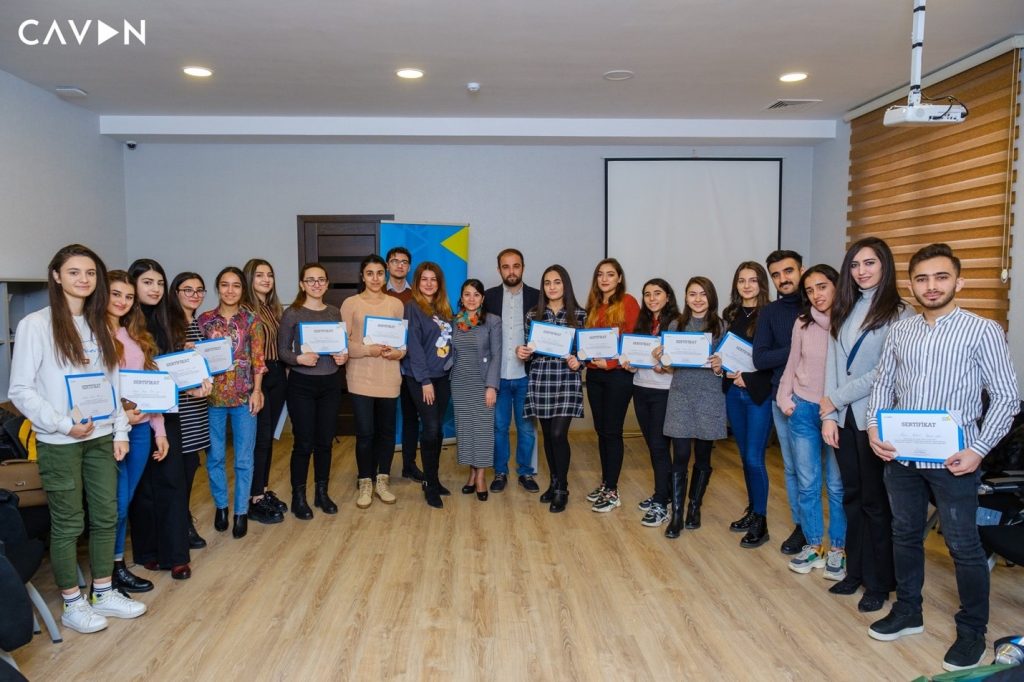 The projects that are offered by Cavan cover different fields of knowledge, thus over 100 thousand people are participating in them. The events organized by Cavan vary from music, chess, football to business, technology and projects that are related to exchange of young talents between countries.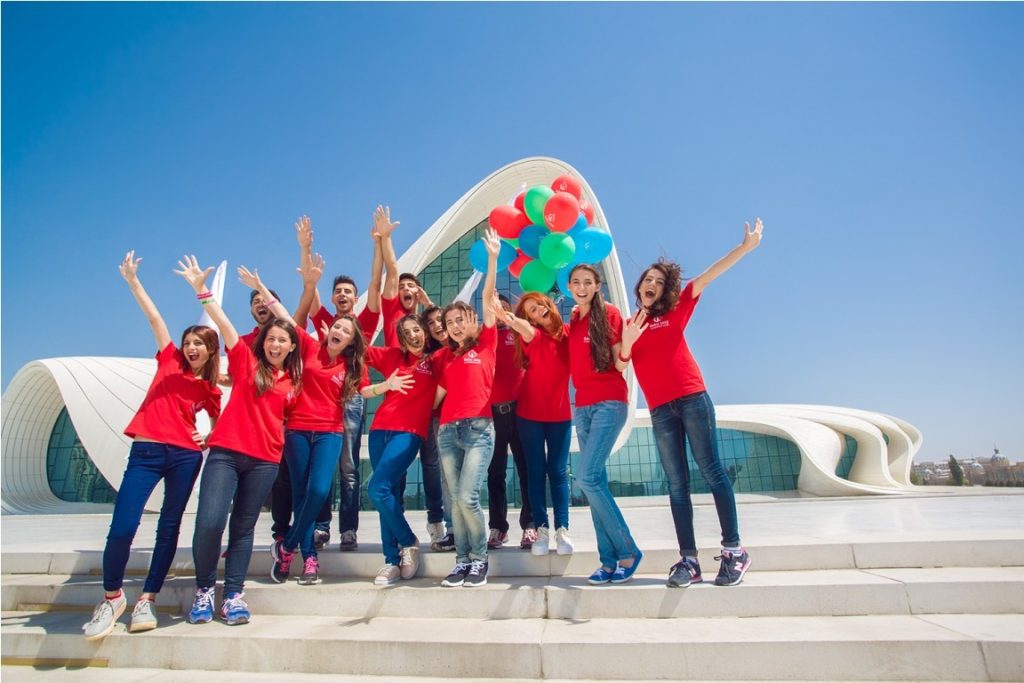 Another project implemented within walls of the BEGOC office center is Formula 1 engaged in implementation of Azerbaijan Grand Prix. Despite of the fact that this year's implementation was disrupted due to coronavirus and quarantine implemented on the whole country and on the borders, in the upcoming two years the implementation of the project is planned. International events like Formula 1 can positively impact economic and touristic development of the country. Moreover, it is creating opportunity for youth to collaborate, to develop group skills and to work on achieving the single goal. It also, creates working places for people and helps young people to attain much-needed experience via volunteering. Concerts involving world famous artists held in the evening, after the race, were the main entertainment part serving also for increasing awareness the event well beyond the borders of the country.
It is worth to mention first initiative behind BEGOC Business Center- European Games, held in June 2015 in Baku.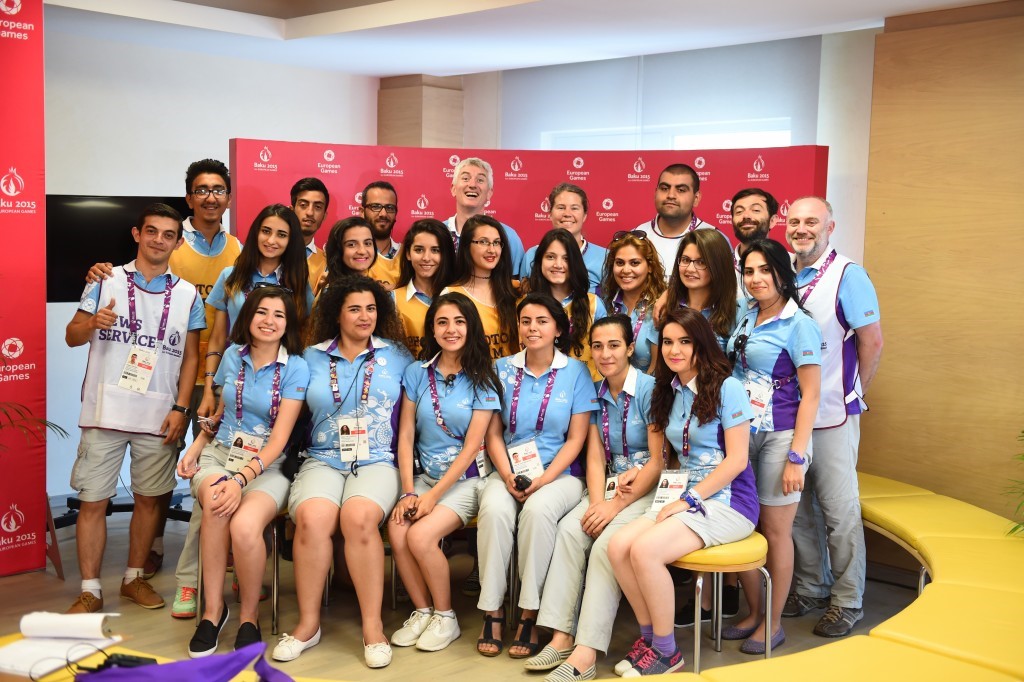 Athletes from 50 states competing in 30 sports were participating in the games. The National Gymnastics Arena, BMX Velopark, Baku Aquatics Centre, Baku Shooting Centre and National Stadium were new-builds (or completely modernized) among other 13 competition venues. Also, The Athletes Village, located in the Nizami district of Baku, comprises 13 buildings, 16 different types of apartments with three to four bedrooms per apartment.
There were about 12.500 volunteers, who participated in the successful implementation; roles were distributed as assistance to athletes, dignitaries, working at sport competitions and helping media and spectators. They were called Flamekeepers.